October 19th, 2016
Continuing the ongoing series of interviews on fantasy user interfaces, it gives me great pleasure to welcome Derek Frederickson of Twisted Media. In this interview Derek talks about his early days in mid-1990s experimenting with Flash on the web, the screen graphics work his company has been doing on numerous episodic cable shows in the last ten years, and the software tools he's using and how he would like them see evolve in the future. In between and around, we talk about his work on the recently released "Independence Day: Resurgence" that bridges the world of 2016 with the alien technology left "behind" in the first installment in the franchise, as well as glimpses of Twisted Media's work on the upcoming "The Space Between Us".

"Independence Day: Resurgence" Area 51 monitor test. Courtesy of Twisted Media.
Kirill: Please tell us yourself and how you started in the field.
Derek: I've been doing the things that I do today pretty much my whole life. I've always been interested in design, programming and animation…and that's exactly what you need to able to do work in this field. Back in the early '80s when I was in my single digits, I had a TI-99/4A. I went to school to study video production, and that helped with certain aspects of shooting, and understanding the whole flow of writing, capturing an image and editing. I was also a musician, so I have a lot of audio experience.
These three things combined helped me ever since. In the early '90s I was doing CD-ROMs, designing interfaces, interactions, movements – a combination of all of those elements. And that's still what I do now. If we do a command center or some sequence on a phone, it's an interactive thing.
There's an interesting thing about me deciding to name my company Twisted Media. It was just me, doing freelancing from time to time. And I got a random email from the assistant to Mark Franco who was the VFX producer that worked with Dean Devlin a lot. They were doing a show called "Leverage" and they were coming to Chicago, which is where I was living at the time, to do the show. And they literally saw the listing for my company in a creative directory and liked the name.
They asked me if I could do graphics for a TV show, and I was so excited after looking up the list of productions they've worked on, that included Independence Day and Stargate. So I wrote back "Yes, I can" [laughs]. That's how it started. When Dean interviewed me, he knew that I was new to that field. But he also knew that the stuff that I showed him was very close to it. He recognized that I could do what was needed. And when he asked me if I could do that, I told him that I had waited my entire life to do it. I've worked on a lot of productions since then, and I'm now back to working with Dean on "The Librarians".

Screen graphics for TV show "Powers". Courtesy of Twisted Media.
Kirill: If you look back at 2007 when you started working on "Leverage" and your work since then, do you see any big changes in what productions expect from what you do?
Derek: It depends on what kind of a show it is. If it's a show that takes place today, there's been such a huge shift in our everyday lives. You look around, and no matter where you are, people are looking at their devices. So for these shows, art is imitating life.
There's an interesting difference between the shows back then and the shows that are made now. A lot of these shows deal with the world of social media, where you can track somebody's activity based on what they posted on Facebook. These things are mature and established, so there's not much creative design or inventing how it looks. There's still work to be done, but it's such a mature playground now.
Everyone sort of knows what it looks like. We know the interfaces of Facebook and Instagram and Twitter. They are well-established. You are asked to show a character being on a social media, but it can't be the actual thing. It is limiting, because we all know how that "looks like". It's not reinventing the wheel, but rather coming up with a creative way to do it. And oftentimes it looks a little weird. It's just text on the white background [laughs].
We grew up with this in the last decade or so. This affects everyone's lives. Consequently, when you design for it, you can't take the viewer out of the moment and you have to take those well-established elements. You have to work with the parameters of what has come before and has been accepted.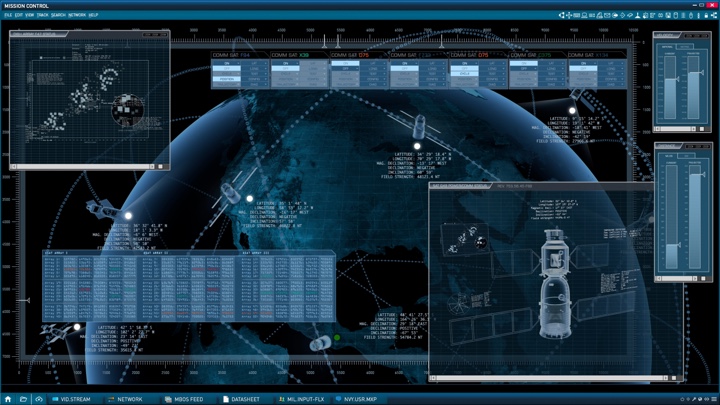 Screen graphics for TV show "Scorpion". Courtesy of Twisted Media.
Kirill: Is that due to production restrictions of not being able to use those branding elements without explicit permission from that company?
Derek: The clearance department is always the bane of our existence. They have to look at everything. You can't use real usernames, for example. Everything that we make is fake. Oftentimes we call it Fakebook, because it can't really be Facebook. We do work for "Empire" that has a lot of music gear. There's a program that they use, and it looks a lot like ProTools, but it's not. It's FauxTools [laughs]. Everything has to be vetted. The design of it is copyrighted and owned property.
In a sense, working on something like "Independence Day" is so liberating. It's not in a real world, and you can explore and make something, and it has nothing to do with today. You're really creating a new world, and that's where you can stretch your wings and do some neat stuff.

"Independence Day: Resurgence" alien biology research, head, interface. Courtesy of Twisted Media.